The 19th Annual Cruisin'the Pines Car Show
Another one in the Books…"Cruisin the Pines" 2018…cooked and done. A couple of close ones, no disasters, like a renewed Breakfast…. many successes.
Thanks to all the members for pitching in. Thanks to the directors for the months of hard work. Thanks to the new directors for stepping up. Thanks to new members for joining in. Special Kudos to a couple of you for going above and beyond being tested by the bureaucracy of the County and the State of California.
I'll be scheduling a meeting with the head Fairgrounds person… as soon as there is one.. to provide him or her ….shall we say ?, "Insight". I've already spoken with a few other major users of the grounds and we are all on the same page. Stay tuned.
Everyone is invited to review the 2018 show and talk about the 2019 show on October 9th, 6pm, Salvation Army. You are invited to be in on the discussions, reviews and recognitions.
Here's some of the feedback we've received since the show.
"Our Vintage Trailer group had a great time! Thank you so much for including us! You guys go above and beyond to make us feel welcome and comfortable. And our Mayor is the absolute best! The folks that came through to visit our trailers were truly impressed and interested and as so very friendly. Really looking forward to next year! Thank you again for a great show!! " Vintage Trailer Owner.
"The limited bike show was well received and my brother and I answered many questions about the bikes on both Friday and Saturday. I am interested in coming back next year as are many bike owners who show regularly with me. I think we can easily get 50 bikes in for the next year's event!" Chal D.
"As a first time vendor at this event, my daughter and I want to thank the organizers for such a great vending opportunity! The care taking and thoughtfulness you gave us vendors was fantastic!" Artisan Vendor
"I just wanted to say thank you again for the invite to the car show this weekend, it was my personal favorite of the three we have run the RC cars at. The kids had a blast! I can donate a car next year (one for each day?) whatever you think? I even thought about having some kind of racing event, have the qualifying races at specific times during the day and the main on Saturday night or Sunday?" Mark S.
"The 4x4's were awesome! My kids got to sit in…a Jeep?....and got to crawl around in that big Sheriffs thing. THEY LOVED IT!" Bring them back!"
My personal Favorite?
"Mikey" and his family from Cool display at the show every year. Mikey is 9, likes to ride around with Mike (me) and talk with everyone. Last year he stopped by the Marines booth. This year he wore his Dad's Marine cover and proudly went back to their booth to show them…but… also tell them he's going to be an Air Force Pilot. You should have heard the recruitment going on!
The Young Gear heads were back again.
" What you do for those kids is so cool. I hope you know that. My son had the white Toyota at your show. He works on that car every day and is so in love with it. He's already spent the $50 gift card. When he showed me the application I couldn't believe the Roamin Angels would let his car in. Thank you so much and thanks to Riebes" Marty.
Hope you caught the other "Young Gear Heads" like the lowered 1974 Datsun wagon? Woody says the kid has to take great care at NU because it barely clears the speed bumps. History repeats itself. Robert Brocke of Foothill Car Care fame started out the same way doing NU, working at the Datsun dealer here in town. Both love their Datsuns.
We had about 10 "Fast" boats (Randy wouldn't let me call them race Boats) that lit up the grounds with the lovely noise of mega horsepower. Next year we're going to elevate our treasured trophy commentator so people towing things don't run Dick over. Of course, if Dick had let Randy say a few words about the boat he might have driven just a smidge straighter. Nah, Randy wouldn't do that…...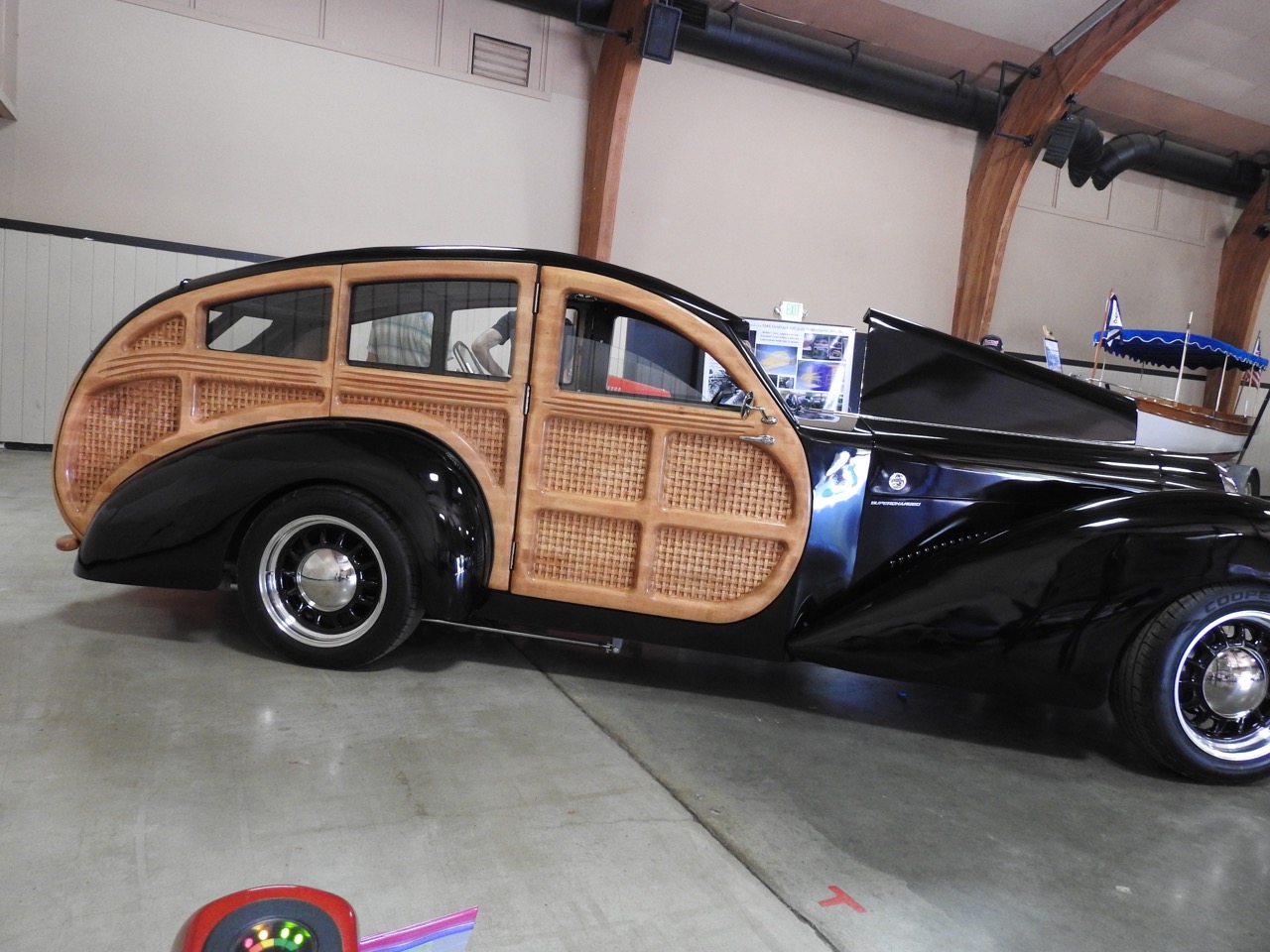 We are so lucky to have Gary Apple share his passion…his cars…with us. No other show enjoys his efforts.
We are also lucky that 4 people think enough of the Club to come back from more than a few miles away to visit and help out at the show. Good to see Kathy, Terry, Pauline and the Mike with no hair once again.
GVPD had a constant flow of people on the driving pad. Hope you were able to take a test drive with the goggles. Did you pass? We've given away 4 bikes again based on taking that test drive. All the kids, Grandparents, Parents and GVPD met recently for a Photo Op. Nothing like a new bike to make people happy.
Last words? Volunteer, volunteer….volunteer. We'll have some challenges to pull off the 20th celebration of "Cruisin the Pines".
---
Roamin Angels Car Show Photo Gallery • Car Show & Beyond
Loma Rica Car Show • Mel's Diner Car Show • The Future Value of Collector Cars